Performances
" It doesn't matter where you come from or what language you speak. We are all equal as human beings. We deserve to be happy and laugh every day, without language barriers."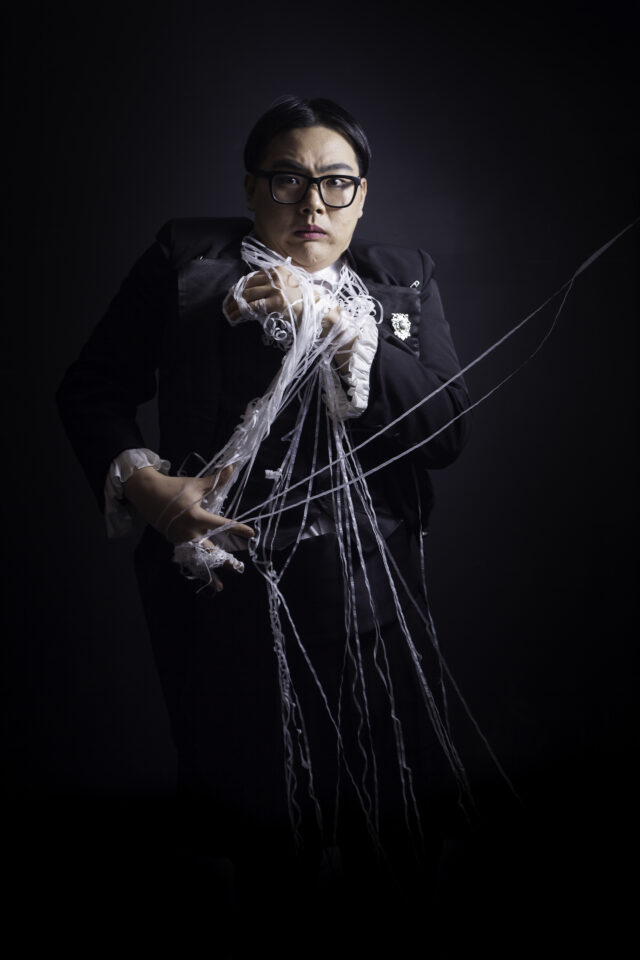 The South Korean magician Jisu Park slips into the role of the charming Jay – a character who likes classic magic and eccentric jazz. He is a meek magician with extraordinary ability. But every time he tries to perform a trick, he fails. If he then tries to cover up his mistake, another nonsense happens to him. Especially when there is a large audience around its stage. On closer inspection, the audience realizes that this is not a casual magician, but rather a clown who seems to have sprung from the silent film era. And yet, thanks to his impressive tricks, he finally manages to enchant the audience!
Why I made and kept doing this show?
When I just moved to UK (in 2014), I felt quite uncomfortable when I was watching shows, because of the language but I don't think it's the only problem for me, so from that moment on, I tried to make a silent show, without language, age, skin color… Also, to emphasize to feel when we enjoy something, Instead of thinking too much about it.
What's something we're look forward to this show
1. Diversity
Obviously, this show is not related with any cultural background but it's linked with a specific attitude that makes a small difference.
The Character behaves like a person who followed Asian's cultural manner and ways of thinking. When the Character blended with the show concept, props and dress which do not belongs to Asian culture, it makes the audience feel that even if we are distinguishable by looks, we are all same as human race. Additionally it suggests an idea to audience about equality and diversity of the world.
2. Share the taste of the artistic journey
At the beginning " The Charming JAY" Character was just one of the Asian magicians. I kept exploring this character while I was doing shows and at some point I realized this character wants to be a DIVA.
He loves to put make up on his face, wear clean clothes and put bright accessories. He wants to be shiny on the spot where he stands on, even though he's shy. Also he admires the sexy gestures and poses. Furthermore, He loves useless beautiful things like the moon, flowers, wind and so on. Especially when he's on stage, he wants to be a diva.
I support my Character myself and want to keep him with infinite cheer.
3. Different Vibe of Shows (Day and Night)
Day time show is more focused on physical comedy and improvisation. We all laugh and wonder together in unpredictable situations. Sometimes it goes crazy, messing around like an old silent film. So the audience can feel a more cheerful and positive energy.
In opposite, at night time when the sky turns midnight blue color, "The Charming JAY" is on the mood of cozy and warm vibes.
It doesn't belong to a high energy and grand finale like fire shows, for example, but for some people who would like to chill during their evening and to end the day with relaxation, "The Charming JAY" is the one who can give to audience a warm hug and a cozy smile. In the chill night with warm energy, like the night, we called it a day.
4. Humanity
The show goes on not only with the tricks but also with the Gestures, conversation through body action, physical comedy and music.
Our looks are all different. In the other hand, it doesn't matter the skin color, age, cultural background, or wherever we came from.
As we are all human race, "The Charming JAY" gives a suggestion to audience that we are all same when we can feel the humanity together.
5. Measurement of audience
"The Charming JAY" Show doesn't involved any dangerous props. It means that the measurement of the safety line is flexible. Also the performance routine depends on the distance between the performer and audience. Simply said, from the small crowd (10-20 people) to the Big crowd (over 300), it can all be handled by the situation and space.
6. Take it Seriously and responsible.
I performed over 10,000 times in European regions through approximately 60 festivals and also in the Covent garden in London, as a professional performer. During that time, I haven't been involved in any accident or haven't caused serious problems with audience.
I am always ready on the spot 2 hours before, checking the location, technical sides and finding the best way to deliver the show to audience.
Also even if I get injured during the show, I can still perform as sitting down or by slowing down the tempo of the show (excepting serious medical problems).
7. Flexibility and adaptability
Due to the much needed multi-tasking circumstance of festivals, I am flexible to follow possible reschedules and location changes by festival organization.
There's no restriction to proceed with the performance, excepting heavy rain.
If it's a heavy rainy day, the show can be moved to an inside location, and if it's adaptable weather like a bit windy or short cut rain, my performance can be made under a big umbrella.
what's the reference of the show?
My base of art is classical stage magic. For the street theatre festival, it blended with West side cool jazz music, clowning and miming. Simply said, it's a blend of old fashioned stage magic and silent comedy. Also it's a visual show, where you can see the interaction with audience.
It's a 40-45min show, without talking, it's a silent show. I made it this way because the show is influenced by old silent movies, such as the movies by Charlie Chaplin, Buster Keaton, Jaques Tati and so on.